Uprooted featuring Michael Glabicki of Rusted Root will headline the inaugural Jamestown Best Day Ever event on Saturday, June 29. A slew of free events on tap in downtown Jamestown.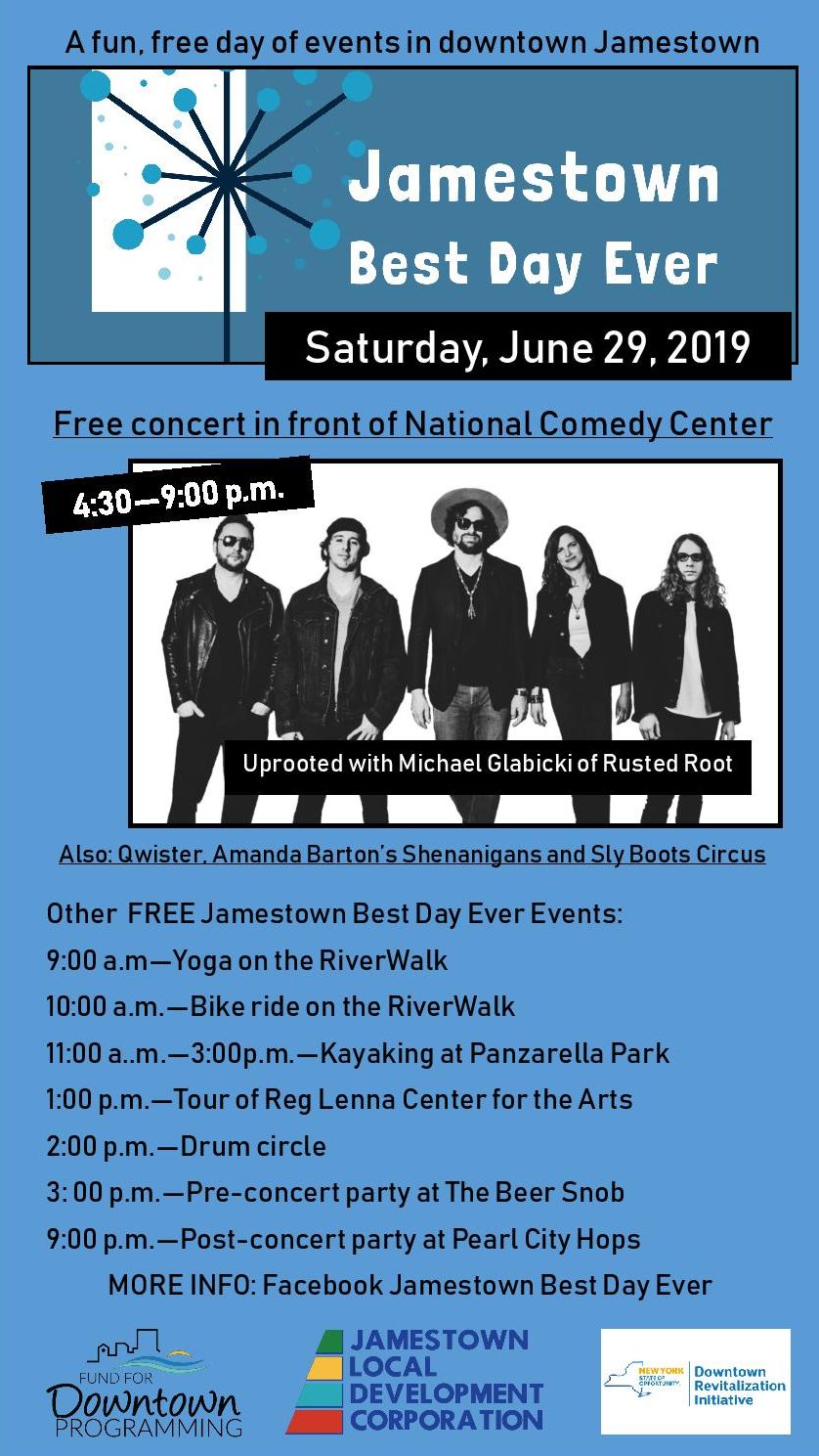 Jamestown, NY – A free evening concert on Saturday, June 29th by Uprooted featuring Michael Glabicki of Rusted Root in front of the National Comedy Center will be the highlight of a new event called "Jamestown Best Day Ever." A day full of fun and experiential events are planned throughout downtown Jamestown, the Riverwalk and the National Comedy Center. The event is being produced by SitlerHQ.
Jamestown: Best Day Ever is a day full of activities that might constitute as someone's "Best Day Ever." will offer a morning yoga session on the Riverwalk, a group bike ride on the entire Riverwalk, kayaking at Panzarella Park on the Chadakoin. Tour of the Reg Lenna Civic Center, a drum circle at Keel Boat landing, and a beer tasting at The Beer Snob. The highlight of the day will be an early evening concert in front of the National Comedy Center with Uprooted and other performances.
The goal is to get local residents, out-of-town guest, and visitors to Chautauqua Lake area to come enjoy and embrace Downtown Jamestown as a fun place to visit.  Jamestown Best Day Ever to bring visitors to Downtown Jamestown's hotels and downtown businesses and will create an economic impact to the entire region.
This event is entirely made possible with grant funding provided through Jamestown's Downtown Revitalization Initiative award provided by Governor Cuomo and New York State through Homes and Community Renewal and the Fund for Downtown Programming.  The grant was approved by the Jamestown Local Development Corporation (JLDC) and is also administered by JLDC.